Welcome to the Asheville Magic Podcast!
Catch Ricky D. Boone and Merrick going behind the curtains exploring the mystery arts. A podcast for those who love Mind Reading, Magic, and Mystery.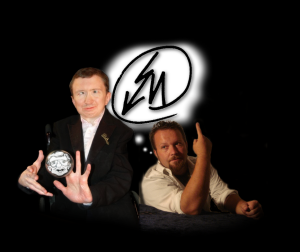 Listen as Ricky and Merrick share what it takes to go from a regular person to an entertaining magician. They will be giving their honest opinions about what makes them tick and the types of shows they love to do.
Whether you want to be a magician or enjoy watching a good show, you can catch these two having a great time with their magic friends, locally in Asheville, NC and abroad. Not only, sharing the secrets that make them better magicians, but the mistakes as well.
By subscribing, you can be the first to hear them performing some of their favorite effects for all types of people in Asheville, NC.
Feel free to laugh at us, with us, or for us.
______________________________________________________________________
Home | Ricky Boone | Merrick | Contact